Who else associates mac and cheese with happy childhood memories?  I'm definitely raising my hand for this one. I've always loved mac and cheese.  When I was growing up my favorite was the boxed kind with mac and cheese powder.
One day, I was eating my American/Nacho Cashew "Cheese" and I realized that it would be absolutely heaven in a bowl if I made it into a macaroni and cheese sauce.  I got so excited that I literally hopped up and made it right then. It made such a delicious baked creamy mac and cheese that I was utterly pleased with. I hope you love it as much as I do.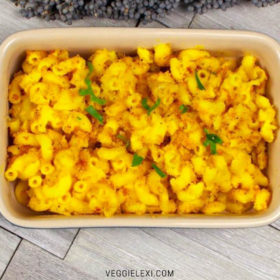 Baked Macaroni and Cheese with Homemade Macaroni and Cheese Sauce (Vegan, Gluten Free, Oil Free, Flour Free):
Servings
9
3" x 3" squares
Ingredients
1

12 ounce or 340 gram package gluten free macaroni noodles

2/3

cup

raw cashews

1

medium carrot*

1 1/4

cups

water

2

Tablespoons

starch

corn starch, potato starch, and tapioca starch all work

2

Tablespoons

hot pepper brine**

1/2

teaspoon

fine sea salt

plus more for the boiling water

1/4

teaspoon

garlic granules

1

teaspoon

gluten free white miso paste

(optional)

1

Tablespoon

nutritional yeast

1

teaspoon

apple cider vinegar

Oil for greasing the baking dish

optional
Instructions
Preheat the oven to 350 F.

Parboil your macaroni noodles (boil for 5 minutes), drain, and set aside.

Boil a small to medium pot of salted water.

While that's coming to a boil, peel and chop your carrot.

Boil the raw cashews and carrots for 10 minutes.

Once the cashews and carrots have finished boiling, drain them.

Blend boiled cashews and carrots, white miso paste, water, starch, salt, nutritional yeast, apple cider vinegar, hot pepper brine, and garlic granules in your blender until completely smooth. This will work in any blender or food processor, but if you're not using a high speed blender be sure to blend for a few minutes to completely break up the cashew pieces.

Heat the cheese liquid in a pan on medium heat, stirring constantly. The cheese is very liquid at this stage, but with some heat on the stove and from the oven it will turn into the perfect macaroni and cheese sauce.

Once the sauce has thickened a bit, toss your parboiled noodles with your sauce until the noodles are evenly coated.

Place the coated noodles in a greased 9" x 9" dish and cover with aluminum foil.

Bake for 15-20 minutes (until noodles are soft and fully cooked).

Remove aluminum foil.

Optional – broil for 1-2 minutes (checking every 30 seconds), or until the top layer is golden brown and lightly crispy.
Recipe Notes
*This recipe makes a yellow colored cheese. If you want a more orange colored cheese, add in an extra carrot.
**This is the leftover liquid from inside a jar of hot peppers. I got the tip to use this from Lauren Toyota's Hot for Food Nacho Cheese Sauce video.