So, here's the thing, I love lasagna.  I mean, I really love lasagna. It has always been, and will always be, one of my absolute favorite comfort foods.  It's the first thing someone taught me how to cook when I moved away from home, and for years it was my go-to dish to make for a group of people.  As much as I love lasagna, I don't always feel like putting in the effort to make it. It's definitely a labor of love kind of dish. That's what I adore about this recipe.  It's super simple. It's also loaded with tons of veggies to fill you up.
Pro tip: The starch from the noodles really thickens the soup up and makes it creamy.  You have to stir it frequently while the noodles are cooking and be sure to scatter them when you add them to the pot.  If you add one big clump of noodles they'll stick together, and if you don't stir them they'll stick to the bottom of the pot.  You can cook them in a separate pot if you like, but the soup won't be as thick and creamy.
Have you tried this recipe?  What did you think of it? Let me know in the comments below!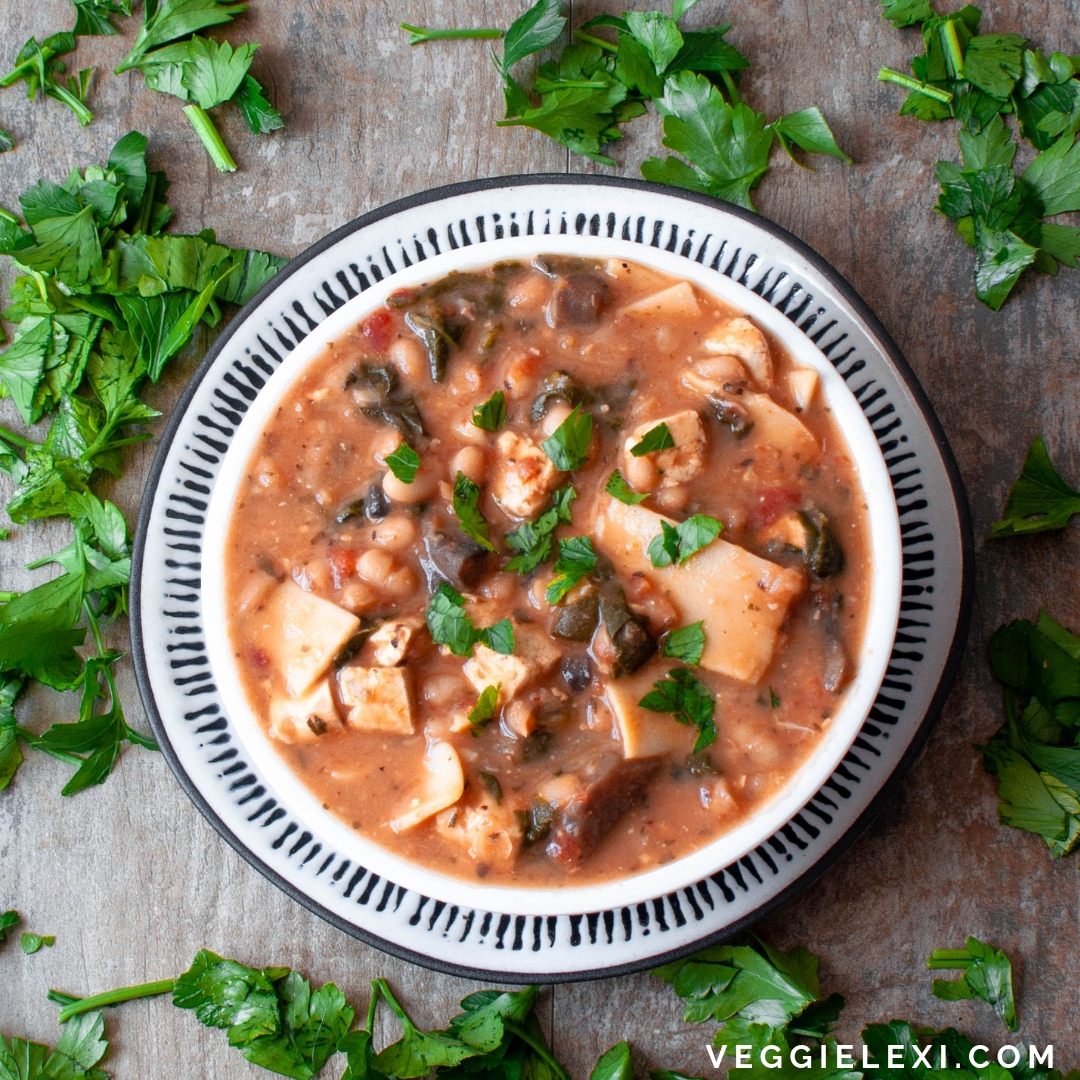 Creamy Lasagna Soup (Vegan, Gluten Free, Oil Free):
Ingredients
2

cups

dry navy beans

soaked overnight

12

cups

water

1

Tablespoon

kosher salt

1

Tablespoon

vegan and gluten free bouillon

1

medium yellow onion

chopped

3

medium cloves garlic

diced

2

Tablespoons

tomato paste

1

can crushed tomatoes

28 ounces or 794 grams

1

Tablespoon

dried basil

1

Tablespoon

dried parsley

8-16

ounces

mushrooms

(chopped, depending on preference)

2

small zucchini

chopped into ¼" pieces

1

block extra firm tofu

cut into ¼" cubes, 16 ounces or 454 grams

1

package gluten free lasagna noodles

broken into 2"-3" pieces, 10 ounces or 283 grams

1

bag raw spinach

cut into ½" strips, 9 ounces or 255 grams

2

cups

gluten free soy milk

unflavored and unsweetened
Instructions
In a large pot, combine the water, soaked navy beans, salt, bouillon, onion, garlic, tomato paste, crushed tomatoes, dried basil, and dried parsley.

Bring to a boil. Boil uncovered for 20 minutes.

Add in the mushrooms, zucchini, tofu, and lasagna noodle pieces. Stir constantly while adding the lasagna noodle pieces to prevent them sticking together (try to scatter them throughout the pot and avoid adding a clump of them).

Boil for 12 minutes, or until the lasagna noodles are cooked through. Stir once a minute while cooking to prevent the noodles from sticking to the bottom of the pot.

Remove from heat and stir in the spinach to cook.

Stir in the soy milk.


If you're looking for a lighter soup recipe, I'd definitely recommend Harriet's Roasted Tomato and Red Pepper Soup.  I absolutely adore the addition of balsamic – it pairs perfectly with the tomatoes.