These beautiful, crisp Autumn days have me craving warming food that fuels my body.  I was interested in making a vegan "cheese" filling that's a bit lighter and more cost effective than my usual cashew base.  So, I decided to try making a vegan eggplant rollatini with white beans as the base. I was so pleased! Ever so delicious and just an absolutely lovely and simple meal.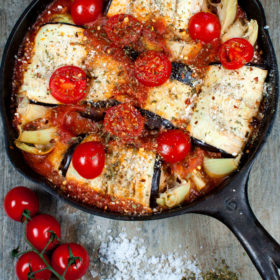 Eggplant Rollatini (Vegan, Gluten Free, Oil Free, Flour Free):
Ingredients
1

large eggplant

cut lengthwise into 1/4" thick slices (should yield 6 slices)

1

cup

cooked white beans

1 1/2

teaspoons

fine sea salt

divided

1

teaspoon

dried parsley

1/2

teaspoon

garlic granules

1

Tablespoon

Nutritional Yeast

2/3

24 ounce jar gluten free marinara sauce

1

13.75 ounce can artichoke hearts, drained (optional)

1

Tablespoon

dry gluten free bread crumbs

optional
Instructions
Pre-heat oven to 425 F.

Place eggplant slices on a parchment paper lined baking sheet.

Sprinkle eggplant slices with 1/2 teaspoon fine sea salt.

Bake eggplant slices 18 minutes (until a fork easily pierces the eggplant, but not so soft that it can't act as a noodle replacement).

Remove eggplant from the oven and set aside.

Leave oven on.

Combine white beans, 1/2 teaspoon fine sea salt, 1 teaspoon parsley, 1/2 teaspoon garlic granules, and 1 Tablespoon nutritional yeast in a high speed blender or food processor. Blend until smooth. This will be a very thick paste. You want it to be thick so that it will stay in place once the eggplant is rolled around it.

Place marinara sauce in the bottom of a medium sized oven safe skillet (I used a vintage size 6 cast iron skillet and it fit perfectly).

Add 1/6 of the bean cheese mixture to one end of one of the eggplant slices. Roll tightly to wrap the eggplant slice around the filling. Place rolled eggplant in the skillet on top of the marinara sauce.

Repeat with remaining filling and eggplant slices.

If using artichoke hearts, place in open spaces between rolled eggplant.

If using bread crumbs, sprinkle bread crumbs on top.

Sprinkle 1/2 teaspoon fine sea salt on top.

Simmer on medium heat for 5 minutes to heat all ingredients.

While simmering, turn oven to broil.

Broil for 1-2 minutes to brown the top. Check it every 30 seconds to make sure it doesn't burn.