I love this recipe for four reasons.  1) It's delicious. 2) I only get one pot dirty.  3) Once everything's cooking, it's pretty set and forget.  I just set a timer on my phone and go about doing other things until the timer beeps and I do the next step.  4) This is probably my favorite part – for such a large meal, it's ridiculously cheap. I love great and affordable things, and this is one of them.
I love all things curry, and this recipe is no exception.  If you also love curry, feel free to even add in a bit more curry powder!  This recipe can definitely handle it. If you're looking for a more unique flavor, check out this version of the recipe made with cinnamon, cumin, ginger, and rosemary instead.
Have you tried this recipe?  What did you think of it? Let me know in the comments below!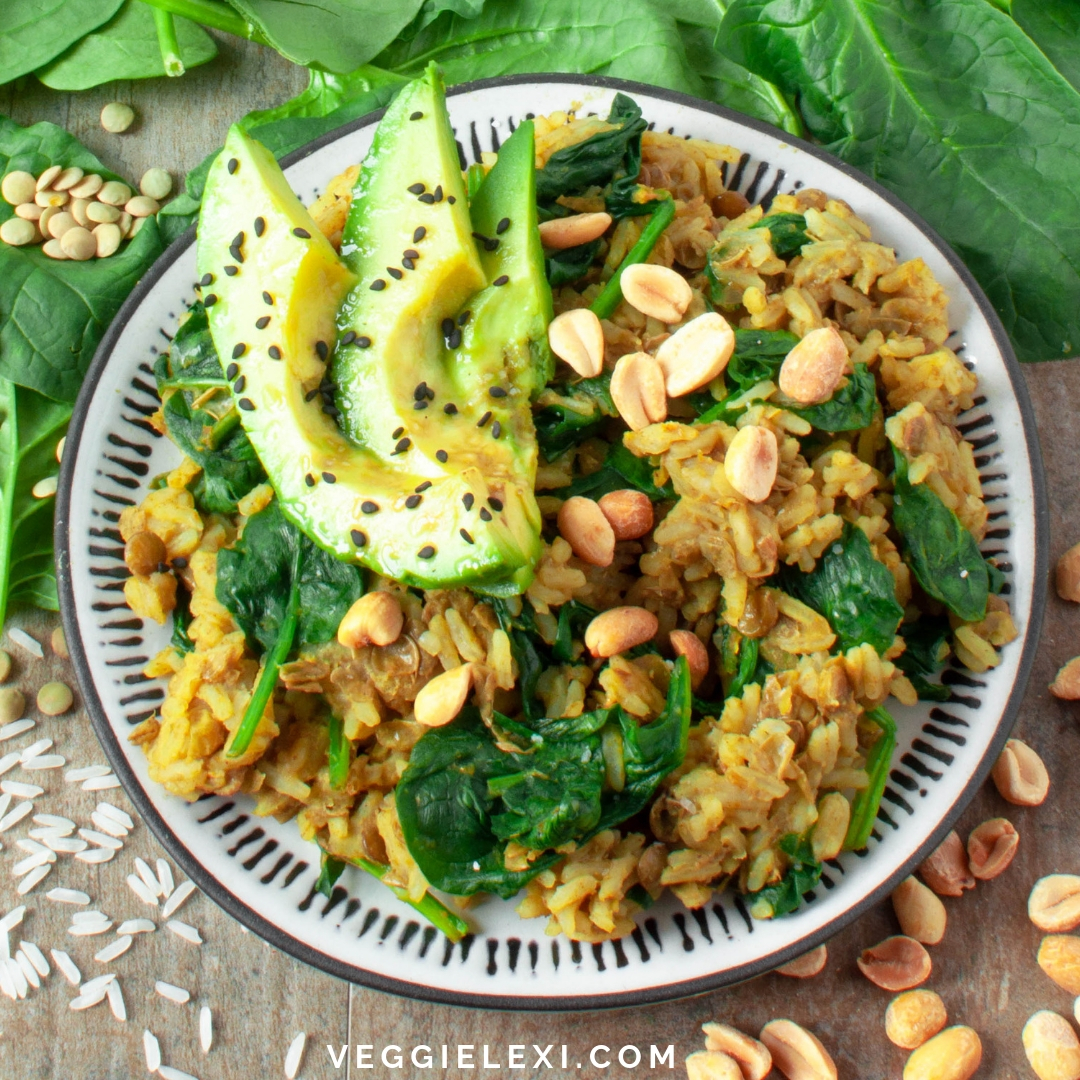 Green Lentils and Rice with Curry (Vegan, Gluten Free, Oil Free, Flour Free):
Ingredients
1/2

large yellow onion

thinly sliced

1

cup

dry green lentils

6

cups

water

6

cloves

garlic

crushed

1

Tablespoon

curry powder

2

cups

dry unenriched long grain white rice

1/2

Tablespoon

Kosher salt

3 - 3 ½

cups

water

based on firmness of lentils

1

bag raw spinach

washed and roughly chopped, 8 ounces or 227 grams
Instructions
In a large non-stick lidded pot, water saute the sliced onion by adding a Tablespoon of water at a time as needed until soft and translucent, about 5 minutes.

Add in the lentils, 6 cups water, and curry powder.

Bring to a boil. Boil for 25 minutes uncovered. Nearly all of the water should evaporate in this time.

Determine how much water you need in the next step by tasting a couple of lentils at this point. If your lentils taste cooked, you only need to add 3 cups of water. If your lentils still taste undercooked, add 3 ½ cups of water. I've made this recipe with multiple brands of lentils, and there seems to be some variation here, that's why this tasting step is necessary.

Add in the rice, salt, and 3 - 3 ½ cups of water. Bring to a boil, cover, and simmer for 18 minutes.

Turn the heat off and leave covered to rest for 10 minutes.

Remove the lid and stir to fluff the rice.

Add in the spinach and stir to combine. The heat from the rice and lentils will steam the spinach without overcooking it.

Top with whatever you like. I love topping this with chopped peanuts, avocado, cilantro, scallions, or sesame seeds.