Does anyone else feel like they could probably live off of sushi?  Anyone? I think I could. Avocado sushi at least. I go through lots of food phases.  Normally I get bored of a food anywhere from a week to a month after becoming obsessed with it.  Avocado sushi is the only food this has never happened with. That's why it's absolutely necessary that I be able to make it from home, I just don't think I could afford my sushi habit otherwise.  Once you get the hang of rolling it, it's so easy. One of our favorite ways to enjoy it is an at home date night. We make lots of different rolls with different veggie combos and hang out playing card games.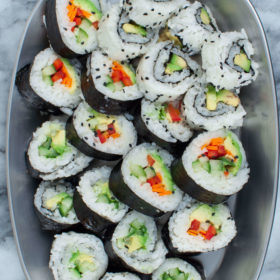 Scrumptious Sushi Rolls (Vegan, Gluten Free, Oil Free, Flour Free):
Ingredients
Sushi Rice:
2

rice cups uncooked short grain glutinous rice*

1/2

cup

rice vinegar

1/4

cup

sugar

1

teaspoon

salt

1

Tablespoon

grapeseed oil

optional, it helps to separate the rice
Toppings:
Your favorite vegetables cut into thin strips

I most commonly use avocado, cucumber, carrot, bell pepper, baked sweet potato wedges, and lettuce

Nori Sheets

Roasted black sesame seeds

Wasabi

Tamari

(or soy sauce if not gluten free)
Instructions
Sushi Rice:
Cook the rice per the instructions from your rice cooker.

Combine remaining ingredients in a saucepan.

Heat over medium-low heat and stir until sugar is dissolved.

Once the rice is finished cooking, pour the seasoning mixture into the rice and stir gently with a rice paddle until all grains of rice are separated and evenly coated.

Let sit covered for 15 minutes (the rice will absorb any extra liquid during this time).
Assembly:
Place your nori sheet shiny side down on the bamboo mat.**

Cover all but the edges of your nori sheet with an even layer of sushi rice.

Place a few pieces of your chosen veggies in a row about an inch in from the edge closest to you.

Roll the close edge of your nori sheet over the filling. Be sure to squeeze as you roll, tightening the sushi roll as you go.

If needed, wet the far edge of the nori sheet to make it sticky to hold the roll together.

Cut the sushi roll into 8 evenly sized pieces.***

Top with a sprinkling of sesame seeds.

Serve with wasabi and tamari.
Recipe Notes
*2 rice cups is measured using the measuring cup that accompanies your rice cooker. This is equivalent to 1 1/2 cups of uncooked rice using regular measuring cups.
**If you're rolling your sushi with the rice on the outside of the roll, be sure to have a layer of saran wrap between the rice and the bamboo mat.
***Pro tip – use a sharp wet knife to cut your sushi, it makes it much easier. Clean your knife after every second cut.