As Summer rolls around, it's time to enjoy no bake frozen treats!  I've partnered with Coconut Bliss to bring you a Banana Split Ice Cream Bar recipe that you'll absolutely love!
The ice cream is the star of this recipe, and that's why I chose to use Coconut Bliss' Madagascan Vanilla Bean Ice Cream .  Coconut Bliss has been one of my favorite plant-based companies for just over a decade (oh my gosh, I'm aging myself there!).  I fell in love with this company because their ice cream is delicious, ultra creamy, and is made with ingredients that I feel good about eating.  I also love that this high quality dessert caters to so many different dietary needs, making it so easy for me to enjoy serving it to my friends and family.

True to their name, Coconut Bliss aims to bring a blissful experience to all beings through their plant-based and 100% certified organic ice cream.  Coconut Bliss is the highest quality organic and plant-based frozen dessert on the market right now. Just take a look at the ingredient list and you'll see what I'm talking about.  In the Madagascan Vanilla Bean Ice Cream the ingredients are: Organic Coconut Milk, Organic Agave Syrup, Organic Coconut Cream, Organic Vanilla Extract, and Organic Vanilla Beans. With such a simple and wholesome ingredient list, it's no wonder that I feel good after indulging in this delicious frozen dessert.
Another thing that I love about Coconut Bliss is that this company goes above and beyond in all areas.  Not only is their ice cream 100% certified organic, made with real ingredients, and unbelievably creamy, their ice cream is also made with fair trade ingredients when possible.  On top of that, Coconut Bliss is the first ice cream manufacturer to use plant-based packaging.
Have you tried this incredible plant-based ice cream before?  If not, I definitely recommend picking some up the next time that you're out at the store!  Check to see where it's sold near you!

I'm so pleased with how this recipe turned out, and I want to make sure your batch turns out perfectly.  I've got lots of tips to make sure your Vegan Banana Split Ice Cream Bars are phenomenal!
Ingredient Tips:
1) Don't soak the dates for too long and use hot (not boiling) water.  If the dates get over soaked the crust will be sticky and more challenging to work with.  If you do soak them a bit too long, no worries! Just wet your fingers before pressing the crust into place and that will help stop the crust from sticking to your fingers. 

2) Only thaw the ice cream for a few minutes.  You want it to be kind of challenging to spread into place.  If it thaws too much it will take much longer to refreeze and it will crystalize in the refreezing process.  Let's be honest, Coconut Bliss Ice Cream is too phenomenal to do that to!
3) This is a banana split recipe, so make sure you get a bit of banana in each and every bite.

See how there are lots of gaps without bananas in the first image?  This won't get you the best results. You want every single bite to be banana split perfection.  If you lay the bananas out like they're shown in the second image, you'll end up with a much more delicious dessert.
4) While we're talking about the fruit, it's important to bring up the strawberries.  Cut the strawberries into small chunks. If you cut large slices, it will be a lot more challenging and messy to eat.

Something else to consider is how quickly you're going to eat the entire dessert.  Are you going to serve this to a crowd and will it be eaten almost immediately? If so, go ahead and put all the strawberries on at once.  If you're planning to make this to store in your freezer and have a slice whenever you're craving it, hold off on the strawberries until just before serving each slice.  Strawberries and bananas freeze differently. While bananas do get harder in the freezer, they still have some give when they're frozen as slices. On the other hand, strawberries get really hard, and they're much more enjoyable fresh.

5) You can use any vegan whipped cream for this recipe.  You can use store bought vegan whipped cream, whipped coconut topping, or homemade coconut whipped cream.  If you want to make your own vegan whipped cream you can easily make yourself a batch by combining a can of chilled coconut cream, ½ cup organic powdered sugar, and ½ teaspoon pure vanilla extract.  Whip using either a stand mixer or a handheld mixer until vegan whipped cream forms.
Technique Tips:
1) If you oil the pan a little bit before pressing the cut parchment paper into place, the parchment paper will stay put and won't move around while you're pressing the crust and ice cream into place.
2) When you're lining your pan with parchment paper, cut one of the pieces so that it covers two sides and the entire bottom of the pan.  Cut it so that the two sides hang over by a generous amount – this will give you convenient handles for pulling the frozen dessert out later.  Keep in mind that this crust stays flexible, so don't be surprised if there's some give when you lift it out of the pan at the end.
3) I found that this needed at least 3 hours in the freezer to set enough to top and cut.

*Oats are something that can frequently be cross contaminated with gluten.  Be sure to use certified gluten free oats to keep this recipe safe for gluten free people.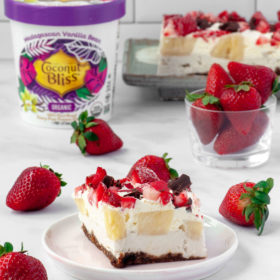 Vegan Banana Split Ice Cream Bars (Vegan, Gluten Free, Oil Free, Flour Free):
Ingredients
Crust:
1

cup

medjool dates

soaked in hot water for 10 minutes and strained

1

cup

chopped nuts of choice

walnuts, almond, pecans, and cashews all work - I used walnuts*

1/4

cup

certified gluten free old fashioned oats

Pinch

fine sea salt
Filling:
1

pint

Coconut Bliss Madagascan Vanilla Bean plant-based ice cream

3

ripe bananas

peeled and sliced into ¼" circles

1 ½

cups

vegan whipped cream

8

medium strawberries

stems removed and chopped

1/3

bar vegan chocolate

roughly chopped
Instructions
Crust:
Start by lining an 8" x 8" square metal baking dish with parchment paper cut to size.

In a food processor or high speed blender, pulse the chopped nuts, oats, and fine sea salt until you get a consistency similar to flour. Pulsing rather than blending continuously helps to keep this fluffy and stops the mixture from getting stuck in the crevices of your food processor or high speed blender.

Add the soaked and strained dates to the food processor or high speed blender and pulse until a thick paste has formed. Scrape down the sides or use the tamper as needed.

Scrape the crust mixture into the lined baking dish. Press down to create an even crust. If your crust is especially sticky, it helps to wet your fingers before pressing the crust into place.
Filling:
While you're pressing the crust into place, allow the Coconut Bliss Madagascan Vanilla Bean Ice Cream to thaw for just a few minutes.

Using a small spatula, spread the Coconut Bliss Madagascan Vanilla Bean Ice Cream across the crust evenly.

Freeze until set, or at least 3 hours.

Cover the ice cream with a layer of banana slices, filling in any gaps as much as possible.

Spread the vegan whipped cream over the banana slices.

Sprinkle the chopped strawberries and chopped chocolate on top.

Serve immediately.
Recipe Notes
*This measurement would change if you're using whole nuts, so be sure to chop your nuts before measuring if you're starting with whole nuts. I used chopped walnuts for two reasons. 1) It's more affordable than buying whole nuts. 2) When you start with smaller pieces it's easier for your blender or food processor to grind it into a fine nut flour.
Want to remember this recipe?  Post this Vegan Banana Split Ice Cream Bar recipe to your favorite Pinterest board!