Note: This post isn't sponsored, but Dr. McDougall's Right Foods was kind enough to send me free samples of their foods. All opinions in this post are my own, promise.

5 minutes for Breakfast, 5 minutes for lunch, and 20 minutes for dinner. No matter how busy life gets, I can always carve out that much time to prioritize my health.

Today I'm sharing with you the food choices I make to stay healthy on a super busy day. I hope this post gives you inspiration and helps you plan ahead so that you have healthy and easy choices available to you when life gets busy!

I don't know about you, but sometimes I struggle to make healthy food choices when life gets super hectic. It's easy for me to make healthy choices when things are going as planned, and I have extra time in the mornings and evenings to prepare healthy meals from scratch. On the other hand, when things get really busy, I find myself craving takeout, or lingering for a while in front of the frozen foods at the grocery store.

These are the moments when I'm grateful to have really easy meals on hand.  So easy and quick that it's faster and easier than ordering takeout and picking it up.  That's the general level of ease I'm aiming for in this post. I know that when I keep things that simple, I'm practically guaranteeing success in making healthy choices for myself.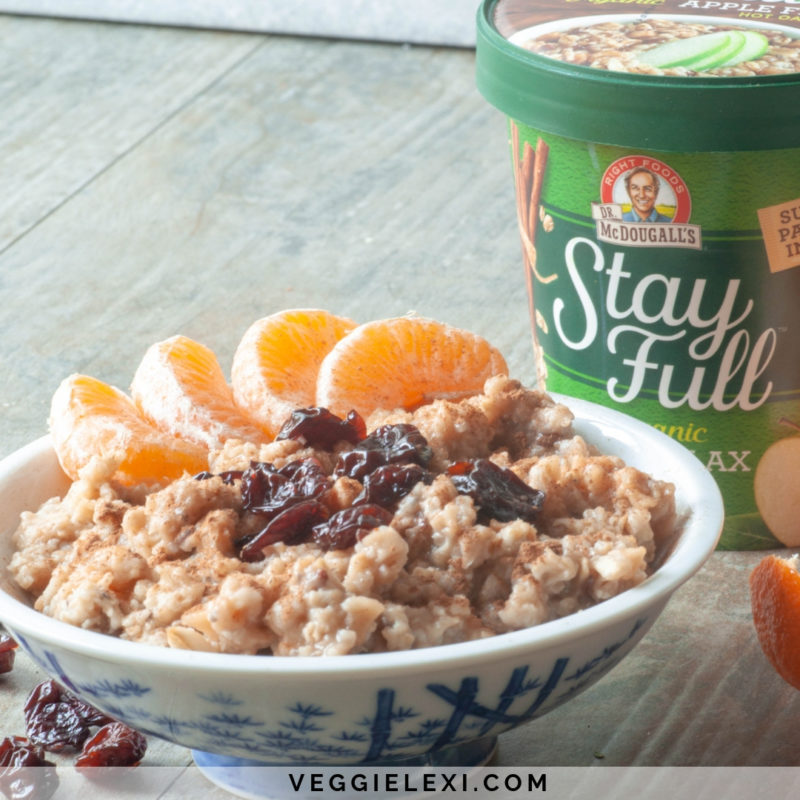 What I Ate For Breakfast:
I'm starting the day with Dr. McDougall's Right Foods Stay Full Organic Apple Flax Hot Oatmeal. This delicious breakfast is packed with 7 grams of protein, healthy fats from flax seeds, and is seriously tasty. I topped mine with a few pieces of clementine, some dried cherries, and some cinnamon. This breakfast is 230-270 calories (depending on whether or not you have yours with sugar), and it kept me full and satisfied until lunch.

What I Loved:
The sugar packet is separate!  Mind blown. I love that I have complete control over the sugar content.  I also loved that this breakfast included flax seeds as a healthy fat. Flax seeds are an excellent source of ALA-Omega-3, and I try to add a bit to my oatmeal anyways.  I love that it's already included here for me, making it truly a one step meal.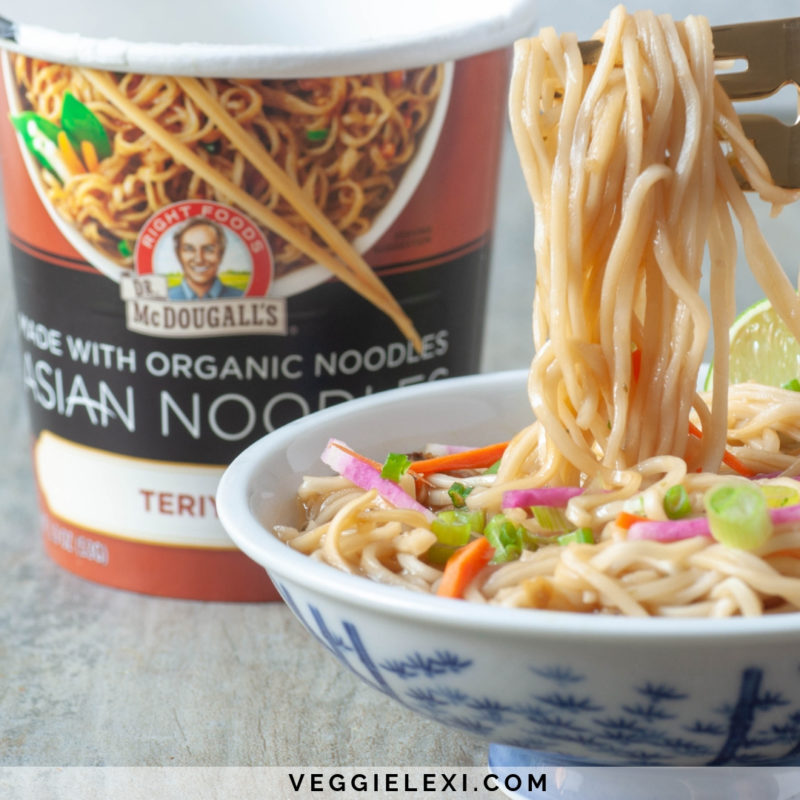 What I Ate For Lunch:
I'm having Dr. McDougall's Right Foods Teriyaki Asian Noodles. I decided to top mine with diced green onions and just a few matchstick pieces of watermelon radish and carrot. It didn't need anything added to it, but I love having a little fresh crunch added in. I also ended up adding in some sriracha to spice things up a bit, which tasted phenomenal.

What I Loved:
This meal is only 200 calories and is very low in fat.  I don't like to fill up on too many calories or too much fat in the middle of the day.  That's because if I do, I end up feeling more like I need a nap than I do energized from lunch.  This is perfect if you're at all like me. It was filling and energizing and didn't leave me lethargic at all.


What I Ate For Dinner:
Even on busy days, I can't not make dinner. I think I'm so used to cooking that it's just part of my nighttime ritual. To make things as easy as possible, I made the world's easiest version of homemade enchiladas using Dr. McDougall's Right Foods Vegan Tortilla Soup with Baked Chips. While they were cooking, I prepared my Simple Cucumber Salad.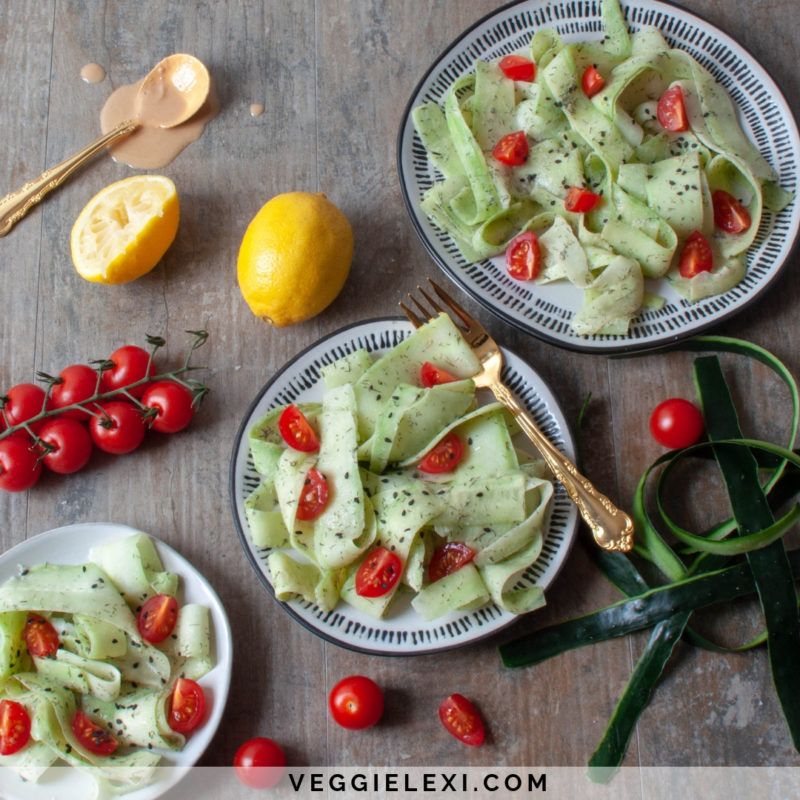 Here's How I Made the Enchiladas:

I keep nuts soaking in my fridge. I do this both because it breaks down the phytic acid and helps them be properly digested, and also because it keeps them ready to go for blending into creamy sauces and "cheesy" fillings. For this recipe I used one cup of soaked walnuts, but soaked cashews would work just as well. If you don't have soaked nuts on hand, you can boil them for 15 minutes before blending.

If you'd like to keep this lower fat, you could use two cups of cooked white beans instead.  Or, you could use a combination of walnuts and cooked white beans. This recipe is very forgiving and the exact ratios shouldn't make a difference.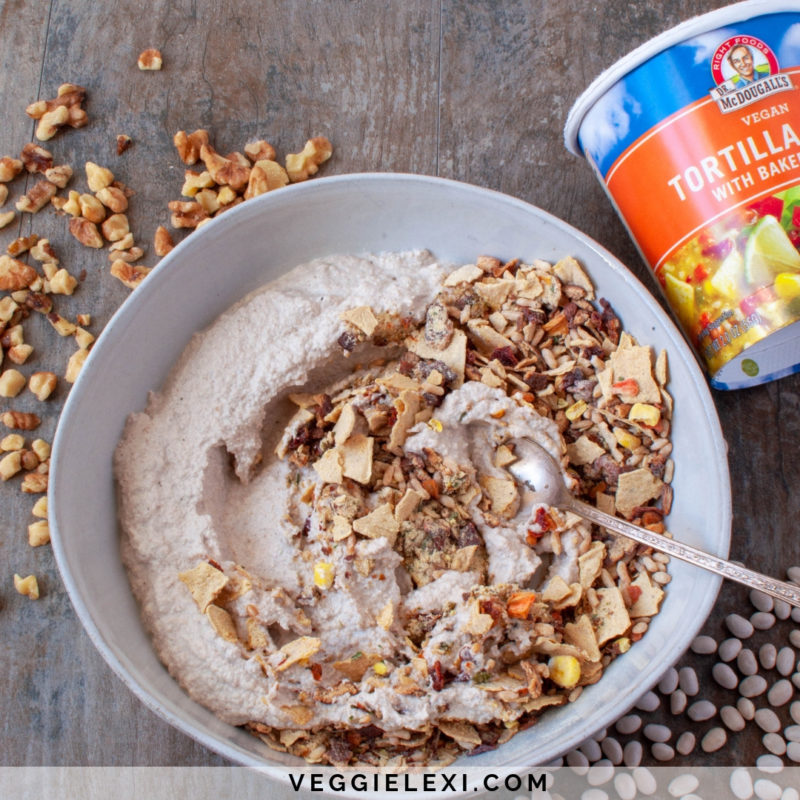 Blend one cup soaked or boiled walnuts in a high speed blender with 1/2 cup water on high for 30 seconds (this will also work in a food processor or a regular blender, but it will take a few minutes of blending).  Once it's a completely smooth and creamy paste, scrape it into a medium bowl and mix with the entire contents of one cup of Dr. McDougall's Right Foods Vegan Tortilla Soup with Baked Chips (be sure to break the chips up a bit with your hands first).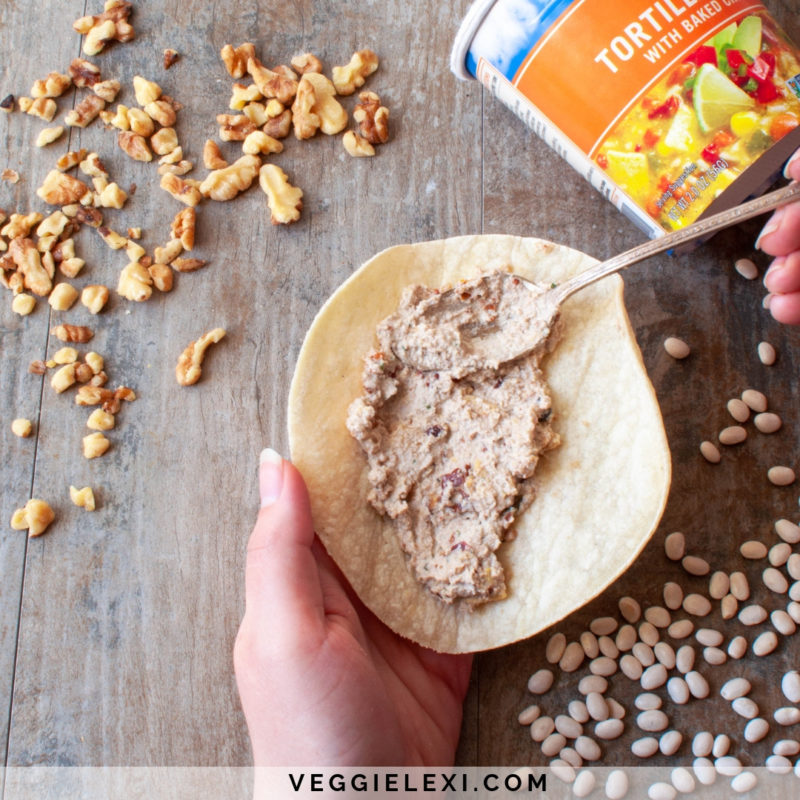 Next, fill 6 small corn tortillas each with 1/6 of the filling and roll into an enchilada.  Place each in a row in a medium lidded non-stick skillet. Here's a tip: if you toast the corn tortillas in a toaster for 20 seconds before rolling them, they won't break apart when you roll them.  I toast them just until the top part that's poking out flops down a bit. As soon as I see that, I know they're ready to roll.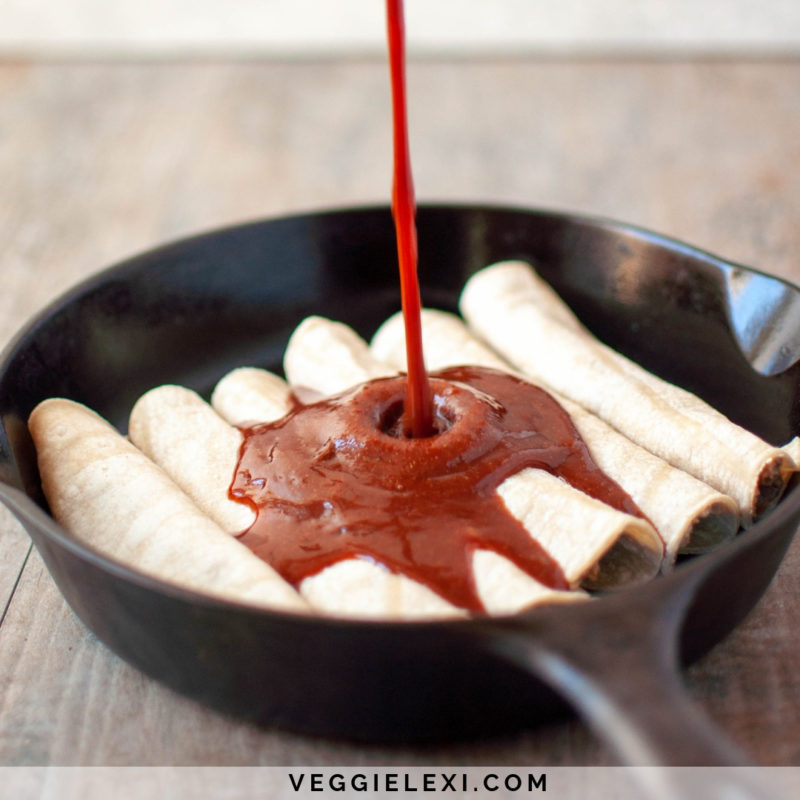 Pour my Easy Five Minute Enchilada Sauce over the enchiladas, and cover them with a lid. Bring them to a simmer on the stove, and simmer for 10 minutes. When they're finished, garnish them with your favorite fresh veggies. I used cherry tomatoes, green onions, cilantro, and fresh lime juice.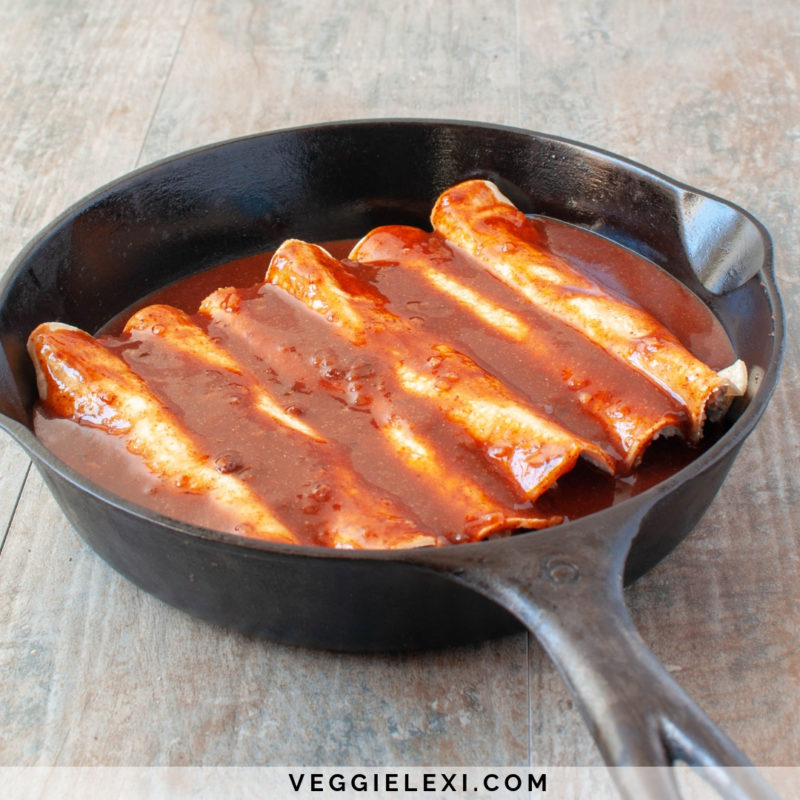 These easy enchiladas were some of my favorite enchiladas that I've ever had.  They were so delicious and so flavorful and they were a huge hit in my house. They were also, by far, the easiest enchiladas I've ever made.  Is it just me, or does that make them automatically even tastier?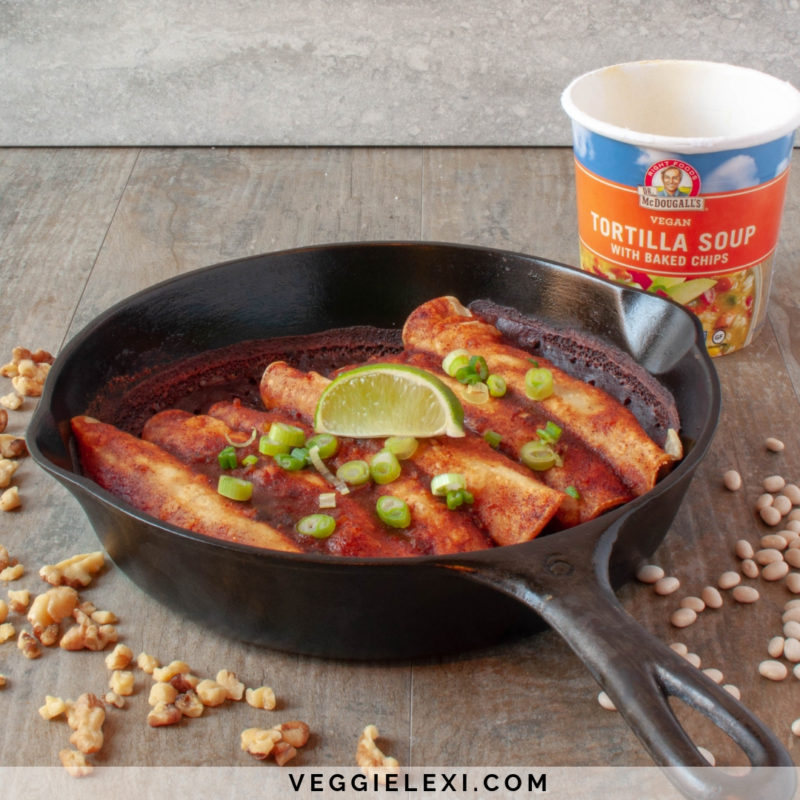 Why I Loved These Products:
All of these meals kept me full and satisfied, and better yet, they were genuinely delicious. I'm a huge fan of Dr. McDougall's work, and I love that they have created easy, healthy, and affordable options for the days when life gets busy.

What Surprised Me:
These meals all kept me a lot more full than other pre-made meals of comparable calories.  I'm used to getting hungry soon after having something pre-made, but that didn't happen with these. I was genuinely pleasantly surprised by how delicious they were, how good they made me feel, and by how long they kept me full.  These will definitely be a staple in my pantry from here on out.