This recipe came about one day when I was craving peanut butter icing on a chocolate cake (I guess I was in the mood for a chocolate peanut butter cup).  I checked and there was no peanut butter to be found anywhere in the house. Plus, we were staying in the country, it was nighttime, and the closest store was 30 minutes away.  Hmmm. I decided to try making an icing with almond butter, and immediately became eternally grateful that I'd run out of peanut butter!
This icing is decadent, savory, and not too sweet.  I've heard amazing feedback from people telling me how much they love it, and it is definitely my favorite and go-to icing.
Have you tried this recipe?  What did you think of it? Let me know in the comments below!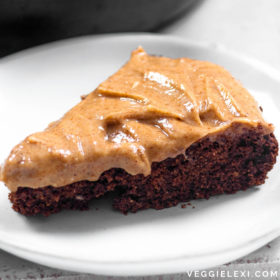 Almond Butter Icing (Vegan, Gluten Free, Flour Free):
Ingredients
1/4

cup

unsalted almond butter

2

Tablespoons

gluten free light brown sugar

3

Tablespoons

Earth Balance vegan butter*

room temperature

1

Tablespoon

gluten free sweetened vanilla almond milk
Instructions
Combine all ingredients and blend with either a stand mixer or a handheld electric mixer until completely combined. It should be a pale tan, very creamy, a little fluffy, and not overly sweet.
Recipe Notes
*I used Earth Balance vegan butter sticks. I've tried making this icing with other vegan butters and the result wasn't the same. It came out more caramel-y and less savory almond butter-y. I recommend using Earth Balance vegan butter sticks in this icing.