I tend to prefer savory foods more than sweet foods, which is probably why I love this cookie recipe so much.  It has a buttery, delicious, subtle, and lightly sweet flavor. It's absolutely perfect for dessert or for dipping in your morning coffee.  This is the most popular cookie in our house, and I absolutely love making it (almost as much as I love eating it).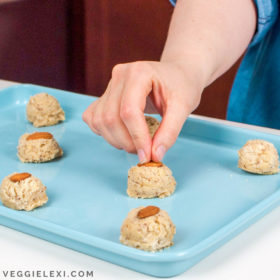 Almond Cookies (Vegan):
Ingredients
2 1/2

cups

flour

sifted

1/2

teaspoon

baking soda

1/2

teaspoon

fine sea salt

1/2

cup

of sugar*

2/3

cup

coconut oil

1/2

cup

applesauce

1

Tablespoon

almond extract

2

flax eggs

60

raw almonds

optional**
Instructions
Preheat oven to 350 F.

Make 2 flax eggs by mixing 2 Tablespoons of ground flax seed with 5 Tablespoons of water and letting sit for 10 minutes to set. It will be a thick gel when it is ready to use.

Mix all dry ingredients together in a large bowl.

Mix coconut oil into mixed dry ingredients. You can either do this in a stand mixer or with your hands. Since coconut oil is solid at room temperature, you can either cut the oil in or coat it in flour and continually make a snapping motion with your fingers to mix it in until incorporated. It does not need to be completely mixed - small pea sized clumps of coconut oil will work well.

Mix in the wet ingredients (applesauce, almond extract, and flax eggs).

Shape into one inch balls. I use a cookie scoop to get evenly sized cookies, but you can also use a Tablespoon measuring spoon. Flatten slightly on the pan if desired.

If adding almonds, lightly press them into the cookies at this point.

Bake for 12-15 minutes (or until lightly golden brown).

Cool for 5 minutes before transferring cookies to a wire rack to cool completely before serving.
Recipe Notes
* You can use up to 1 cup of sugar. I use 1/2 cup, but it depends on how sweet you like your cookies.
** The raw almond the topping is optional. It looks pretty, but for taste I prefer it without the almonds on top.