Have you ever had homemade enchilada sauce?  Oh my goodness, if you haven't, your tastebuds will be thrilled when you try this.  Once you have homemade enchilada sauce, you'll never be able to go back to canned sauce (trust me, I've tried, and it's impossible).

This sauce is so easy, and comes together in a flash.  Better yet, it doesn't contain any oil or sugar. Most recipes contain both, but I promise you won't notice they're missing in this recipe.  It tastes completely savory, flavorful, and incredibly tasty without them.

Bonus: If you use 1/4 cup less water, it makes a thicker sauce that is absolutely perfect for dipping baked crispy wedge fries in.  It makes a savory Mexican fry treat that I absolutely adore.
Have you tried this recipe?  What did you think of it? Let me know in the comments below!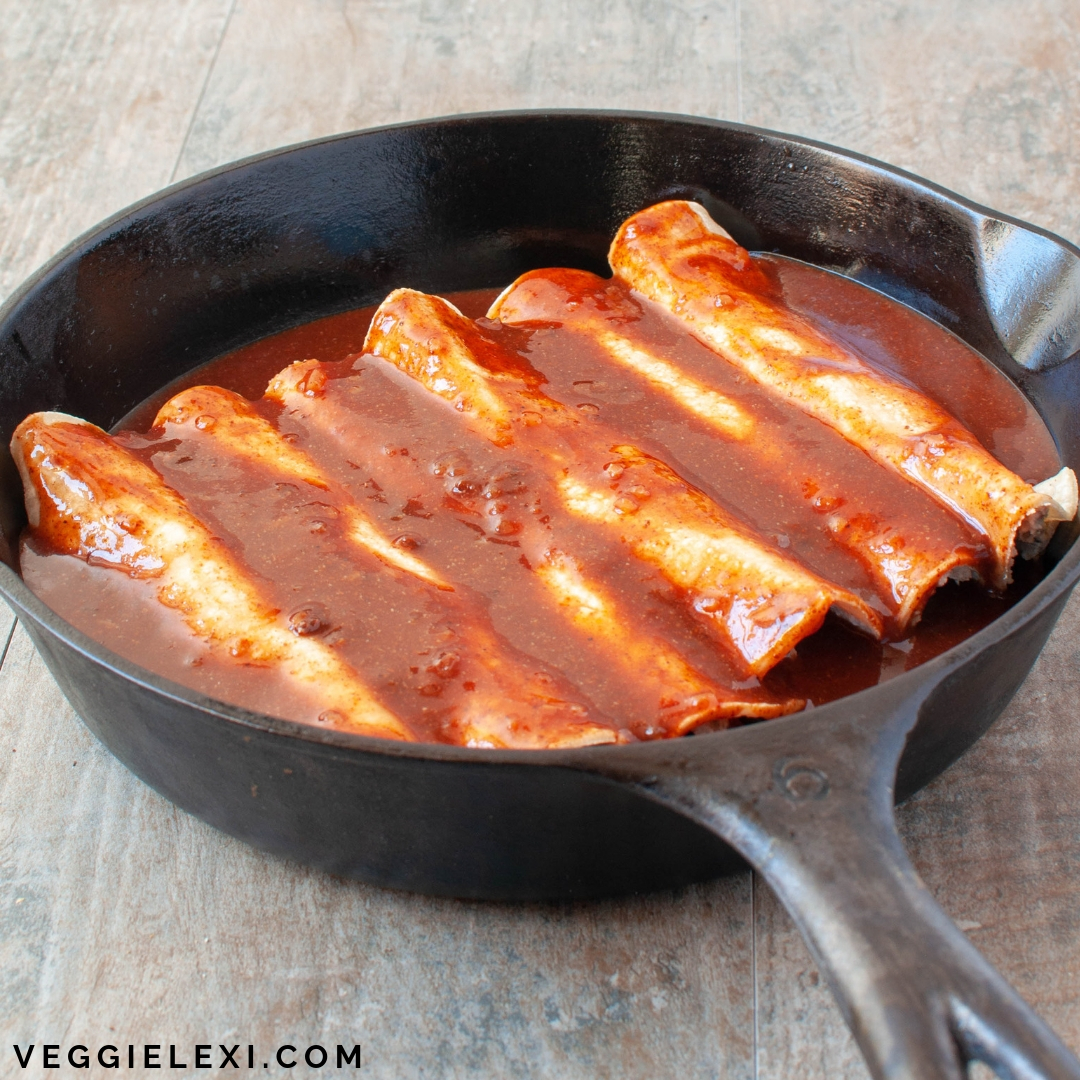 Easy Five Minute Enchilada Sauce (Vegan, Gluten Free, Oil Free):
Ingredients
2

Tablespoon

chili powder blend

1/2

Tablespoon

garlic granules

2

teaspoons

dried minced onion or onion powder

1

teaspoon

ground cumin

1

Tablespoon

arrowroot powder

corn or potato starch also works

1

teaspoon

fine sea salt

1

Tablespoon

Vegetable Better Than Bouillon

1 1/2

cups

water

1/2

cup

tomato sauce
Instructions
In a small bowl, whisk together the chili powder blend, garlic granules, minced onion, cumin, arrowroot powder, and fine sea salt. This is a very important step - if you don't whisk together the dry ingredients first, the arrowroot powder will clump up and won't thicken the sauce properly.

Combine the dry ingredient blend, bouillon, water, and tomato sauce in a small skillet, stir to combine.

Bring to a light boil, then reduce to a simmer. Simmer for two minutes while stirring.