The holidays are my absolute favorite time of year.  Something about this is so magical! Everyone's just a little more excited, cheerful, and kind.  Decorating gingerbread cookies with my family is a favorite holiday tradition of mine, so I knew I needed to make a vegan and gluten free version that we could all enjoy.  This definitely hit the spot.

What's your favorite Christmas dessert?  Let me know in the comments below!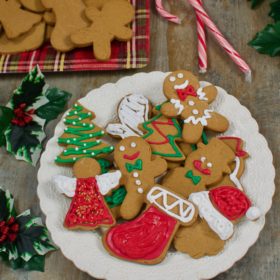 Gingerbread Cookies (Vegan, Gluten Free):
Ingredients
1

flax egg

3

cups

gluten free flour blend*

2

teaspoons

baking powder

1

teaspoon

baking soda

1/4

teaspoon

fine sea salt

1

Tablespoon

ground ginger

2

teaspoons

ground cinnamon

1/4

teaspoon

ground cloves

6

Tablespoons

Earth Balance vegan butter***

1/2

cup

gluten free packed dark brown sugar****

1/2

cup

gluten free molasses

2

teaspoons

pure vanilla extract
Instructions
Make your flax egg by combining 1 Tablespoon of ground flaxseed with 2 1/2 Tablespoons of water. Mix and set aside for 5 minutes until it becomes a gel.

In a medium bowl, whisk together your gluten free flour blend, baking powder, baking soda, fine sea salt, ground ginger, ground cinnamon, and ground cloves until well blended.

In a large bowl, using either a stand mixer or a handheld electric mixer, beat together your butter and dark brown sugar until well blended.

Add in your flax egg, molasses, and pure vanilla extract. Continue to mix until well blended.

Gradually stir in your dry ingredients a little at a time until well mixed with a smooth texture.

Divide the dough in half. Wrap each half in plastic wrap and let sit out at room temperature for at least 2 hours (up to 12 hours). Alternatively, you can store the dough in the refrigerator for up to 4 days. Allow to return to room temperature before baking.

Preheat oven to 375 F.

Line your baking sheets with parchment paper or reusable silicone baking mats.

Place one of your balls of dough on a lightly floured surface, using additional flour as needed to avoid sticking.

Lightly flour the top of your dough and rolling pin.

Roll out to ¼" thick.

Cut out cookies using your favorite festive cookie cutters.

Carefully place your cookies spaced 1" apart on the lined baking sheets.

Bake for 7-10 minutes (less time = softer cookies, more time = crisper cookies).

Let cookies cool on baking sheets for 20 minutes before transferring to wire racks to cool completely.

Repeat with remaining dough.

Allow cookies to completely cool before decorating them with your favorite icing designs!
Recipe Notes
*I used Pamela's gluten free flour blend.  I haven't tried other blends and can't vouch for how well they would turn out.  Pamela's is my favorite mixture for anything that's very reliant on the flavor of the flour (like gingerbread, shortbread, scones, etc.).
**If you don't want to use a store bought blend, the homemade mixture I would use is: 1 3/4 cups white rice flour, 3/4 cup potato starch, 1/2 cup tapioca starch, and 2 Tablespoons psyllium husk.
***I used Earth Balance vegan butter and it's my favorite for baking.  I haven't tried this recipe with other vegan butters and don't know how well it would turn out.  I would probably substitute the Earth Balance butter with coconut oil before another vegan butter.
****If you like your cookies sweeter, use 3/4 cup packed dark brown sugar.