Sometimes my recipes are planned out, and sometimes my recipes are born because I got a random craving one night and I needed to figure out how to make what I wanted with what I had on hand.  This recipe is one of the latter recipes.
This recipe turns out so much better if you use a heavily floured surface, so I definitely wouldn't skimp on flouring your work station.



This recipe took a few tries because some flours did not work well with this recipe.  I ended up using only oat flour because it's much sticker than other flours, and really helps hold these pancakes together without using gums or oil.



This recipe is everything I hoped it would be, and more!  It completely fills the scallion pancake craving and is entirely healthy.  I especially love dipping these into a bowl of soup!



If you've tried this recipe, please let me know what you thought in the comments below!

*Oats are something that can frequently be cross contaminated with gluten.  Be sure to use certified gluten free oats to keep this recipe safe for gluten free people.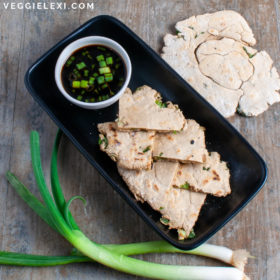 Healthy Scallion Pancakes (Vegan, Gluten Free, Oil Free):
Ingredients
2.5

cups

certified gluten free old fashioned oats

ground in a blender into flour

1

cup

boiling vegetable broth

1

Tablespoon

coconut cream

1

cup

chopped scallions

divided

Tamari

for dipping

Gluten free flour of choice

for your work surface - I used buckwheat flour
Instructions
In a blender, grind your old fashioned oats into a flour.

Bring your vegetable broth to a boil, then add in the coconut cream. This allows the coconut cream to melt so it can be mixed into the flour evenly.

Pour the coconut cream and vegetable broth mixture into the oat flour and stir to combine.

All to rest for 10 minutes, so that the oat flour can fully absorb the liquid.

Place dough onto a floured surface, and cut into 8 even pieces.

Place 7 of the pieces back into your bowl, and immediately cover with a clean kitchen towel (to stop the dough from drying out).

Using a rolling pin or glass bottle, gently roll the piece of dough out to a 6"-8" circle.

Sprinkle 2 Tablespoons of chopped scallions onto the disc of dough.

Rolling away from you, roll the pancakes into a tube. Since there aren't any gums in this recipe, you'll need to squeeze the tube together as you go. It doesn't need to be pretty, but it does need to hold together.

Coil the rolled tube into itself to make a spiral. Do this part gently, the rolling in the next step will get it to stick together.

Using your rolling pin, roll the coiled dough into a pancake 5"-8" wide. If you used a heavily floured workspace, you'll end up with a coil that doesn't completely stick together, but is workable. This will make the more delicious pancake because the bits that don't quite hold together where the coils meet make the dough-y tasty bites.

Heat a non-stick skillet over medium heat. Once heated, cook the pancake for 4 minutes, then gently flip and cook for an additional 4 minutes.

Repeat with remaining pancakes.