Oat flour is truly a godsend.  It's such an easy and affordable gluten free flour and I love that I can grind it at home!  Even better, it's binding power is truly incredible. It makes vegan "burgers" and "meatballs" an absolute breeze to make.  It just needs to sit for 10 minutes after the boiling liquid has been added in so that it can fully absorb the liquid. After that, wet your hands and form it into the shape you prefer.  It's so much less delicate to handle than many of the other vegan "burger" recipes I've tried, and that makes it all the more enjoyable to cook.
You can either bake or saute these, but I prefer the texture of them baked.  They dehydrate a bit, which helps them hold their shape.
Try topping these burgers with my Spreadable Mozzarella Cheese or my Spreadable American Nacho Cheese!
If you've tried this recipe, please let me know what you thought in the comments below!
*Oats are something that can frequently be cross contaminated with gluten.  Be sure to use certified gluten free oats to keep this recipe safe for gluten free people.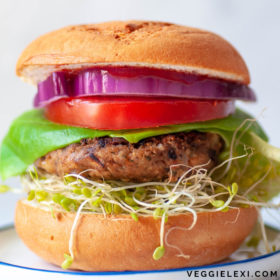 Mushroom and Oat Veggie Burgers (Vegan, Gluten Free):
Ingredients
4

teaspoons

olive oil

divided

2

cups

sliced mushrooms

chopped, 8 ounces or 227 grams

1

medium yellow onion

diced

3/8

teaspoon

Kosher salt

divided

2

medium cloves garlic

pressed

1

cup

certified gluten free old fashioned oats

ground in a blender into a flour

1/2

cup

walnuts

ground in a blender into a coarse flour

1

cup

boiling water

2

teaspoons

vegan and gluten free bouillon

1

Tablespoon

dried parsley
Instructions
If baking, preheat oven to 350 F.

Heat a medium non-stick skillet over medium heat. Add 2 teaspoons of olive oil when hot, and swirl to coat the skillet with the oil.

Add the mushrooms to the oiled skillet and saute until golden brown and have greatly reduced in size, about 5-6 minutes, stirring a few times to flip and prevent from sticking.

Add in 1 teaspoon of olive oil, the diced onion, and 1/8 teaspoon Kosher salt. Stir to combine. Saute until cooked through and translucent, about 4-5 minutes, stirring a few times.

Add in the pressed garlic and stir. Saute until aromatic, about 30 seconds to 1 minute, stirring constantly. Remove skillet from heat.

Add the Vegetable Better Than Bouillon to the boiling water and stir to fully dissolve.

Place the oat flour in a large mixing bowl. Stir in the ground walnuts, 1/4 Teaspoon Kosher salt, and the dried parsley.

Add in the sauteed mushrooms, onion, and garlic, and stir to combine.

Add in the vegetable broth and stir to combine.

Let rest for 10 minutes (this allows the oats to fully absorb the water and become sticky enough to hold their shape).

Wet your hands, and form the mixture into 4 even burgers (if you prefer smaller burgers you can make 6 smaller burgers out of this recipe). Make sure to form them so they're an even thickness all the way through (this helps them cook evenly - it's easy to accidentally make the edges thinner than the middle). Wetting your hands helps a lot because the mixture is very sticky - it will prevent the mixture from sticking to your hands too much. You'll probably have to rinse your hands after each burger that you form.

If baking, line a baking sheet with parchment paper or a silicone baking mat, and bake for 20 minutes, then flip and bake for an additional 20 minutes.

If sauteing, heat a large non-stick skillet over medium heat. When hot, add the remaining teaspoon of olive oil. You can use more oil if you prefer, but it will take a minimum of 1 teaspoon of oil to prevent them from sticking. Saute them for 3 minutes, then flip and saute for an additional 3 minutes. The saute time will vary based on your stove. For example, on a gas flame on medium heat, 3 minutes per side was perfect. On an induction cooktop these cooked much faster and 90 seconds per side was almost too long. Keep an eye on them and use your best judgement.