These are, without a doubt, my favorite cookies.  I am definitely obsessed and this is the official go-to cookie in our house.  I used a fairly bitter tahini when making this and I was worried that it wouldn't turn out well because of that.  Surprisingly, the opposite happened. Because I used a tahini with a strong flavor I was able to taste it in the cookies and it balanced incredibly well with the sweetness of the cookies and the saltiness of the topping.  I hope that you love these cookies as much as I do! Have you tried this recipe?  What did you think of it? Let me know in the comments below!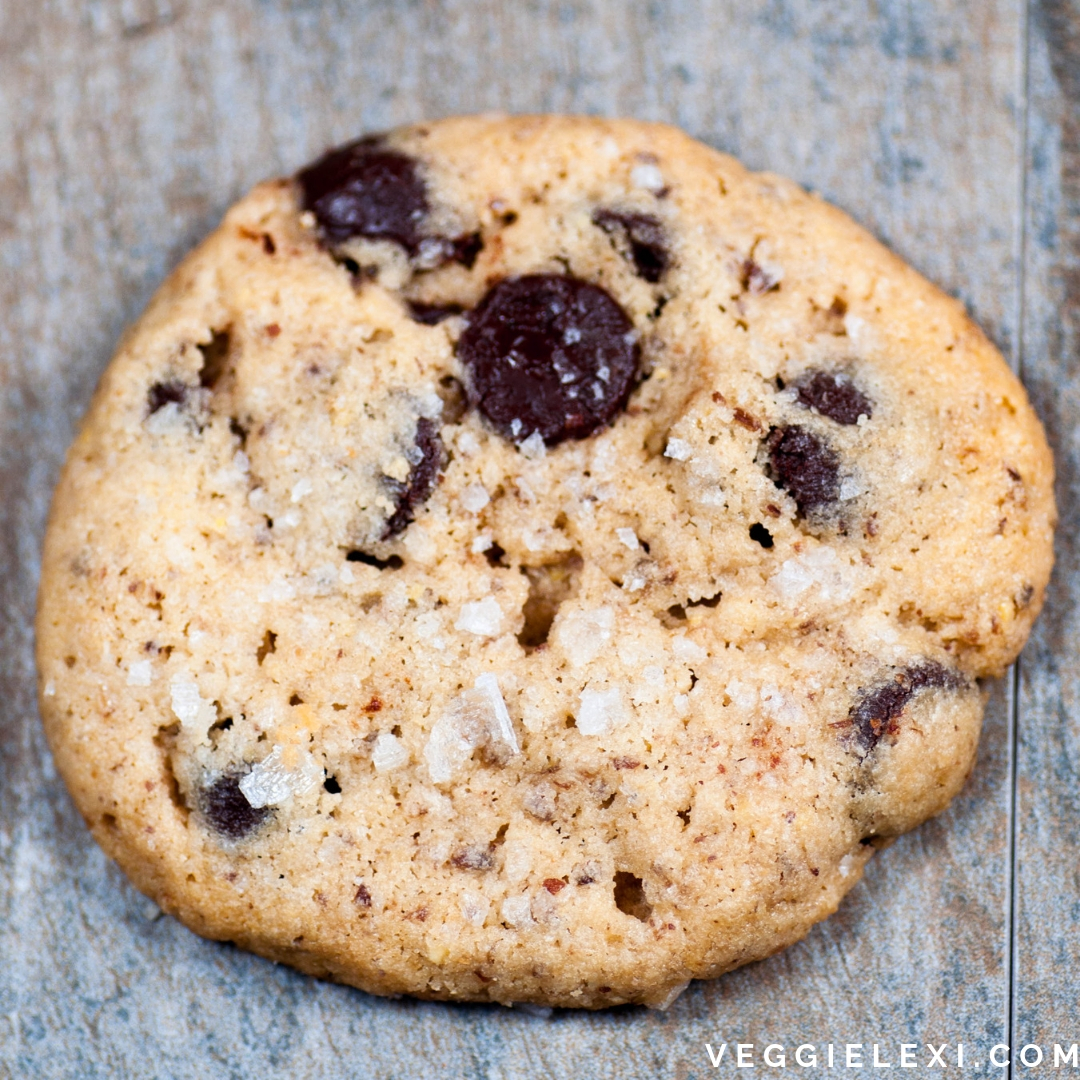 Salted Tahini Chocolate Chip Cookies (Vegan, Gluten Free):
Ingredients
2

flax eggs

1/2

teaspoon

baking soda

1

Tablespoon

hot water

8

Tablespoons

vegan butter*

room temperature

1/2

cup

tahini

well stirred

1/3

cup

cane sugar

1/3

cup

gluten free dark brown sugar

1

teaspoon

pure vanilla extract

1

cup

gluten free flour blend**

1/2

teaspoon

baking powder

1

teaspoon

fine sea salt

1

cup

vegan dark chocolate chips****

Flaky sea salt

for topping*****
Instructions
Preheat oven to 375 F.

Line your baking sheets with parchment paper or reusable silicone baking mats.

Make your flax eggs by combining 2 Tablespoon of ground flaxseed with 5 Tablespoons of water. Mix and set aside for 5 minutes or until it becomes gel-like.

Combine your baking soda and a Tablespoon of hot water. Stir until the baking soda is dissolved.

In a large bowl, using either a stand mixer or a handheld electric mixer, beat together your butter, tahini, sugar, and dark brown sugar until well blended.

Add in your flax eggs, baking soda and water mixture, and pure vanilla extract. Continue to mix until well blended.

In a medium bowl, whisk together your gluten free flour blend, baking powder, and fine sea salt until well blended.

Gradually mix in your flour mixture a little at a time until just mixed. Scrape down sides of bowl as needed.

Stir in the chocolate chips.

Using a Tablespoon or a small cookie scoop, make 1" sized cookie dough balls and place them spaced 2" apart on the lined baking sheets (these cookies spread a little during baking).

Flatten the cookie dough balls a bit with your fingers. It helps if you wet your fingers first to prevent sticking.

Sprinkle the cookie dough balls with the flaky sea salt.

Bake for 20-25 minutes depending on the consistency you like your cookies (I aim for around 22 minutes with a slightly golden edge and a pale middle - 20 minutes will be slightly undercooked and 24-25 will be crispier).

Let cookies cool on baking sheets for 20 minutes before transferring to wire racks to cool completely.
Recipe Notes
*I used Earth Balance vegan butter sticks.  This is my favorite vegan butter replacement and I prefer the sticks for baking and cooking because they have a lower water content than the tub does.  The tub has more water in it to make it more spreadable, which makes it not as ideal for baking and sauteing.
**I used Pamela's gluten free flour blend.  I haven't tried other blends and can't vouch for how well they would turn out.  Pamela's has a delicate flavor profile and is my favorite mixture for this type of baking.
***If you don't want to use a store bought blend, the homemade mixture I would use is: 1/2 cups white rice flour, 5 Tablespoons potato starch, 3 Tablespoons tapioca starch, and 1 Tablespoon psyllium husk.
****I used the Enjoy Life Dark Chocolate Morsels.
*****I used the Maldon Sea Salt Flakes.