Like many people, soup is my go to meal when I'm sick.  This recipe is the soup my husband and I have had every time we've been sick in the last few years, and it always helps us feel better.  I believe in the healing power of foods, and this combination helps us feel better quickly. I love how easy and fast this soup is, because when I'm sick, I have very little energy to put into cooking.  I love that it doesn't require any sauteing and that it only has to boil for 10 minutes.
There are a few different components in this soup that I believe help on a sick day.  First, there's tons of water, so it's very hydrating. Second, it uses full fat coconut milk to help you get some healthy fat and calories on days when you really don't feel like eating.  Third, the spice in the chili paste helps my husband and I when we're feeling congested. The chili paste is completely optional, and I would consider leaving it out if you're sick with a gastrointestinal illness because it could upset your already sensitive stomach.
Organic versus Conventional: I don't often specify organic versus non-organic in my ingredient lists.  This soup is an exception. While you obviously could make this with conventional produce, I find that when I'm sick, having the higher quality ingredients really makes a difference.  In this recipe that's especially important for the corn and potatoes. GMO corn can make my stomach hurt on a good day, so I definitely won't eat GMO corn on a sick day. Potatoes are actually dependent on the country for me.  Conventional potatoes in Canada don't bother me, but conventional potatoes in the US do bother me. I'd say to go with your gut, and use the ingredients you feel comfortable with.
Salt: I try not to specify expensive salts in my recipes, but when I'm sick, I tend to use gray sea salt.  Celtic is my favorite brand, and it's the one I always use in this soup when I'm sick. There are reports that it is more mineral rich than other varieties of salt, but I use it simply because it helps me feel better.  You can make this with whichever salt you like, but I wanted to make sure you had all the information to make this as close to the way I make it if you choose.
If you've tried this recipe, please let me know what you thought in the comments below!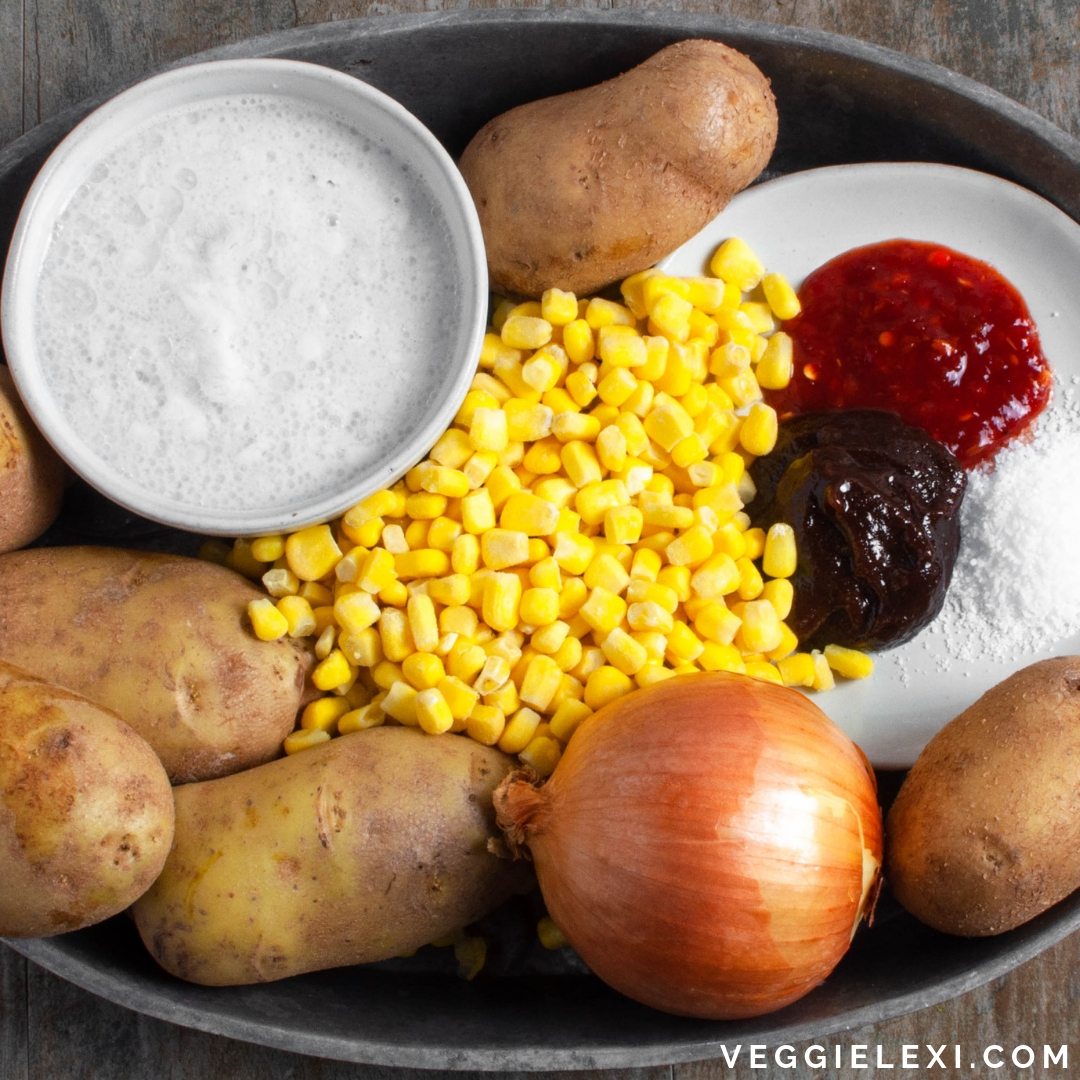 Sick Day Soup (Vegan, Gluten Free, Oil Free, Flour Free):
Ingredients
20

cups

water

6

medium organic potatoes

russet or yukon gold, cut into 1" chunks

1

medium yellow onion

chopped

2

cups

frozen organic corn

2

Tablespoons

vegan and gluten free bouillon

1

Tablespoon

chili paste

optional

1

can full fat coconut milk

13.5 ounces or 400 mL

Salt

to taste

Fresh parsley

optional, diced - for topping

Fresh scallions

optional, diced - for topping
Instructions
Add all ingredients to a large pot and bring to a boil.

Boil for 10 minutes, or until the potatoes are fork tender.

Allow soup to cool for a bit before serving.