Pesto is absolutely one of my favorite sauces ever.  It's so creamy, garlicy, and all around yummy. Unfortunately, most store bought pesto is made with dairy and lots of oil in it.  Also, fresh basil is expensive, and it adds up fast in a recipe like this.  So, I love making it with spinach. It's so delicious and really fills that pesto craving.  Pro tip: I've seen lots of kale pesto recipes floating around, and I've tried it, and I think it's definitely a fail.  If you have the choice between trying some homemade spinach pesto or kale pesto, definitely opt for spinach pesto.
Have you tried this recipe?  What did you think of it?  Please let me know in the comments below!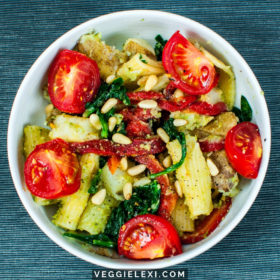 Oil Free Spinach Pesto (Vegan, Gluten Free, Oil Free, Flour Free):
Ingredients
2

Tablespoons

packed parsley (whole)*

optional, depending on taste preference

1/2

cup

unsweetened gluten free almond milk

2

cups

spinach

tightly packed

1/2

medium lemon

juiced

1

medium clove garlic**

1

teaspoon

fine sea salt
Instructions
Combine all ingredients in a blender and blend until completely smooth.
Recipe Notes
*Recipes like this are a great place to use up parsley stems since they'll be blended.  They contain the same flavor, so if you've got some lying around, feel free to use a combination of parsley stems and leaves.
**If you're a garlic lover, try this recipe with only one clove before adding more.  Since there's no significant source of fat to balance out the garlic, too much garlic will definitely have a spicy aftertaste.
Want to remember this recipe?  Post this Oil Free Spinach Pesto recipe to your favorite Pinterest board!