Nachos?  Yes, please!  Nachos are one of those things that I just need in my life.  Dollops of this delicious spreadable cashew cheese are perfect for nachos.  I also love it as a topping for vegan chili and chili cheese fries.  Also, just dipping chips straight into it. It's stretchy, melty, and oh so good.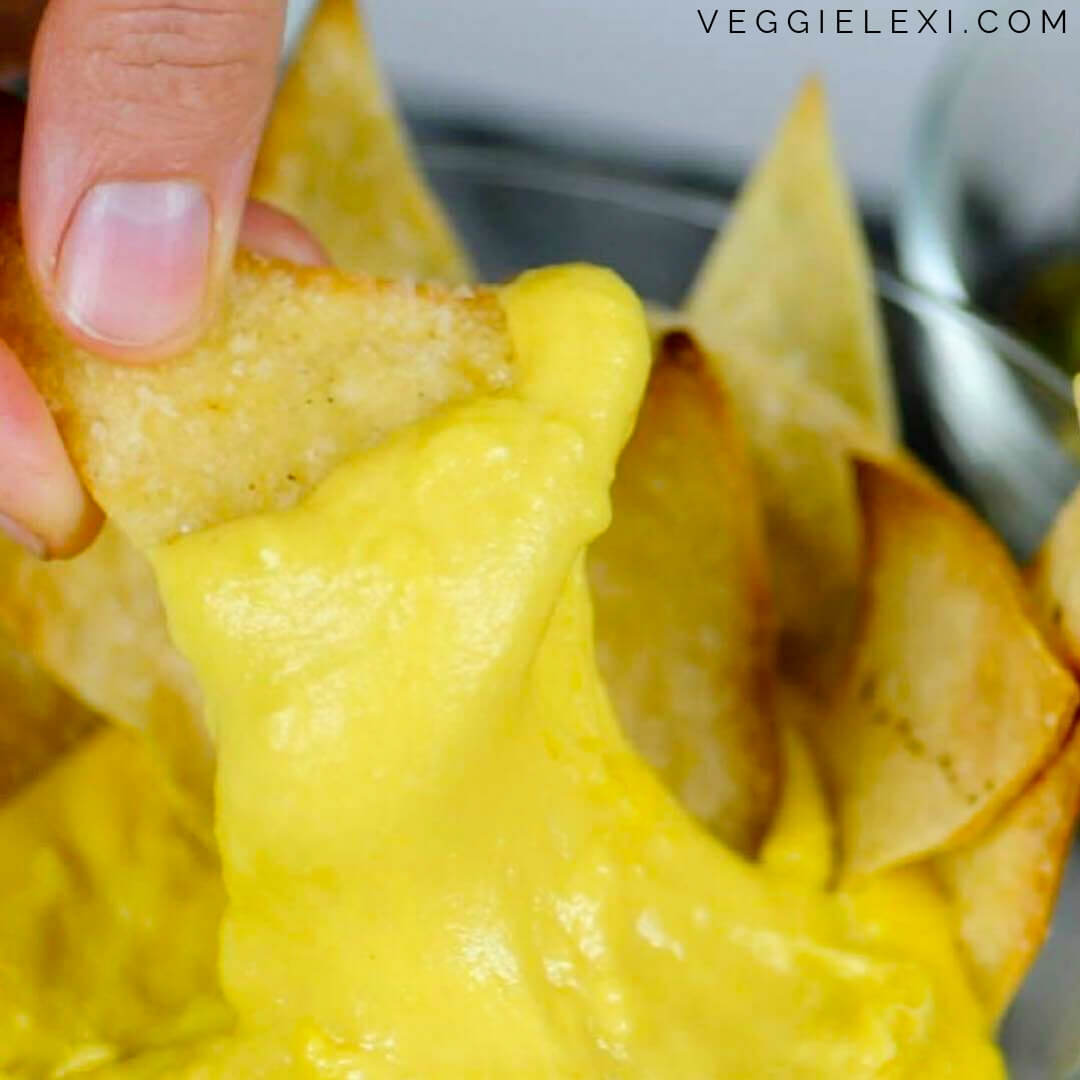 American/Nacho Style Spreadable Cashew Cheese (Vegan, Gluten Free, Oil Free, Flour Free):
Ingredients
2/3

cup

raw cashews

1

medium carrot*

1 1/4

cups

water

1/4

cup

tapioca starch**

2

Tablespoons

hot pepper brine***

1/2

teaspoon

fine sea salt

plus more for the boiling water

1/4

teaspoon

garlic granules

1

teaspoon

gluten free white miso paste

(optional)

1

Tablespoon

nutritional yeast

1

teaspoon

apple cider vinegar
Instructions
Start by boiling a small to medium pot of salted water.

While that's coming to a boil, peel and chop your carrot.

Boil the raw cashews and carrots for 10 minutes.

Once the cashews and carrots have finished boiling, drain them.

Blend boiled cashews and carrots, white miso paste, water, tapioca starch, salt, nutritional yeast, apple cider vinegar, hot pepper brine, and garlic granules in your blender until completely smooth. This will work in any blender or food processor, but if you're not using a high speed blender be sure to blend for a few minutes to completely break up the cashew pieces.

Heat the cheese liquid in a pan on medium heat, stirring constantly. The cheese is very liquid at this stage, but with some heat and a few minutes of stirring it will turn into the perfect melty cheese.

Once the cheese becomes totally stretchy and delicious looking, you're finished and ready to serve!
Recipe Notes
*This recipe makes a yellow colored cheese. If you want a more orange colored cheese, add in an extra carrot.
**It's important to use tapioca starch - it's what gives the cheese that stretchy texture we're looking for. Other starches will create something similar, but it won't be nearly as close to the texture of real melted cheese as it would be with tapioca starch.
***This is the leftover liquid from inside a jar of hot peppers. I got the tip to use this from Lauren Toyota's Hot for Food Nacho Cheese Sauce video.