For years, the perfect, fluffy, buttery rice of my dreams eluded me.  I eventually gave up on stovetop rice and bought a rice cooker (or two).  One of them cooked rice, and that's just about the best thing I could say about it.  The other one did a pretty good job, but it just took up too much space to keep it around, especially when my neighbors could make blow your socks off rice on the stove.  I was determined to figure this puzzle out. So, after many, many, many batches of rice, I finally did it! I finally came up with my perfect, no fail, rice recipe!
Healthy tip: Since creating this recipe, I've been experimenting with oil free cooking.  I've worked with this base recipe and have found a way to still make it work!  I will admit, it isn't quite as heavenly and buttery, but dang it is still delicious and fluffy. I skip the step of toasting the rice and just bring the water, rice, and salt to a boil all together uncovered in a large non stick skillet on the stove.  I then cover it, turn the temperature to low, and follow the directions below.
Pro tip: I always used to rinse my rice before cooking, but this recipe works better for me without rinsing the rice.
Have you tried this recipe?  What did you think of it? Let me know in the comments below!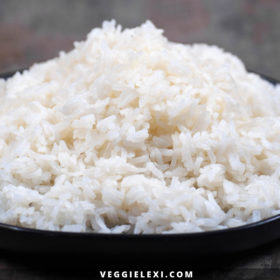 How to Make Perfect Fluffy Rice (Vegan, Gluten Free, Flour Free):
Ingredients
1

cup

long grain unenriched white rice

2

Tablespoons

vegan butter*

1/2

Tablespoon

fine sea salt

1 1/2

cups

water
Instructions
In a medium lidded pot, bring the water and salt to a boil.

While that's coming to a boil, melt the butter in a large skillet over medium heat.

Add the rice to the skillet and stir to coat evenly.

Toast the rice for two minutes, stirring a few times.

Add the toasted rice to the boiling water.

Bring the water back to a boil, cover and lower to a simmer.

Simmer for 18 minutes.

Remove from the heat and leave covered for 10 minutes.

Fluff with a fork before serving.
Recipe Notes
*I used Earth Balance vegan butter sticks.