This isn't so much of a recipe, as it is an idea.  It's so simple that I struggle to call it a recipe.  It's the perfect Fall or Winter breakfast to fill you up with delicious whole food on a chilly morning.  The toppings are completely interchangeable with your toppings of choice. I commonly add my oil-free granola to this.  To speed up the cooking time, you could peel the sweet potatoes and chop them into chunks. I prefer to steam them whole (with only the tips cut off to release the steam), because I want them to steam until they're really soft and can mash easily.  I find that if I steam them peeled and chopped, they get mushy in my steamer basket, which isn't fun to clean.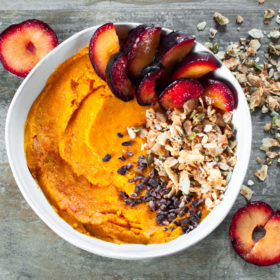 Sweet Potato Breakfast Bowl (Vegan, Gluten Free, Oil Free, Flour Free):
Ingredients
2

medium sweet potatoes

cleaned with the tips cut off

1

stone fruit

pitted and sliced

1/4

cup

coconut clusters

2

teaspoons

raw cacao nibs
Instructions
Boil an inch of water in a pot.

Add your steamer basket.

Add the sweet potatoes and steam for 20-30 minutes (depending on size – you want them to be very soft)

Let sweet potatoes cool just enough that you can comfortably handle them.

Cut a slit in the skin and spoon the interior into a bowl.

Mash the sweet potatoes and divide between two serving bowls.

Top with fruit, coconut clusters, and raw cacao nibs.