Have you ever wondered how to make the perfect, epic, ultimate, creamy oatmeal?  There's a few things that matter. 1) Choose the right oats. I prefer using Old Fashioned Oats because they retain their texture and don't turn to mush, and they're still quick to cook.  2) Cook it in some sort of plant based milk. Day-to-day, I'll cook it in water, but if I want the ultimate oatmeal, using plant based milk is a must. 3) Add banana slices to it during the cooking process.  This imparts a delicious natural sweetness and a variation in the texture while eating.
That's it!  That's all of the magic that goes into making perfect oatmeal.  Pretty simple, right? Now whip up a bowl of this, grab a spoon, and enjoy!
If you're looking to dress it up even more, I recommend adding a drizzle of my Date Caramel Sauce.  The sweetness makes this oatmeal absolutely heavenly!
Have you tried this recipe?  What did you think of it? Let me know in the comments below!
*Oats are something that can frequently be cross contaminated with gluten.  Be sure to use certified gluten free oats to keep this recipe safe for gluten free people.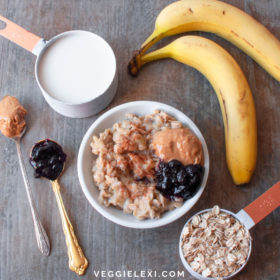 Ultimate Creamy PB&J Oatmeal (Vegan, Gluten Free, Oil Free, Flour Free):
Ingredients
1.5

cups

gluten free soy milk*

1

cup

certified gluten free old fashioned oats

Pinch

Kosher salt**

2

bananas

peeled and sliced

2

Tablespoons

peanut butter

2

Tablespoons

jam
Instructions
In a medium saucepan, bring the soy milk to a simmer.

Add the salt, oats, and banana slices.

Simmer until the oats have absorbed the soy milk (about 5 minutes), stirring constantly.

Divide between two bowls.

Top each bowl of oatmeal with 1 Tablespoon peanut butter and 1 Tablespoon jam.
Recipe Notes
* I used WestSoy Organic Unsweetened Vanilla Soymilk and strongly recommend it in this recipe.  It doesn't have any additives and is much fuller bodied than other brands. I find that the oatmeal becomes much creamier when I use it.  
** Any salt will work, but I specifically recommend Kosher salt here because Kosher salt is the least salty tasting salt.  It enhances the flavor without imparting a salty flavor.